At least 27 people have died trying to cross the English Channel in a small boat. Here's what we know:
A fishing boat sounded the alarm on Wednesday afternoon after spotting several people in the sea, off the northern coast of France.
Those who drowned were 17 men, seven women – one of whom was pregnant – and three children, France's Interior Minister Gerald Darmanin said.
A joint search and rescue operation by British and French authorities was launched, and eventually called off late on Wednesday.
Two people were rescued and are in a critical condition with severe hypothermia in a French hospital. One of them is from Iraq, the other is Somali, Mr Darmanin told RTL radio.
The task of performing autopsies and identifying the victims will take place over the next few days in Lille, in northern France, the city's public prosecutor Carole Etienne confirmed.
French media is reporting that the dead are believed to be Iraqi or Iranian Kurds.
What happened to the boat?
The cause of the accident remains unknown, but when the long, inflatable boat the migrants were using was found by rescuers, it was mostly deflated.
Mr Darmanin described the boat as a dinghy that was "extremely fragile".
He said "it was like a pool you blow up in your garden".
It is the kind of boat often used by people smuggling networks to get migrants across the channel, and has now been sent to Lille to be examined.
French police say the boat set out from the Dunkirk area, east of Calais.
Fishermen in the area said calm weather had prompted more migrants than usual to attempt to make the crossing on Wednesday.
There are reports that about 25 boats had attempted the crossing during the day.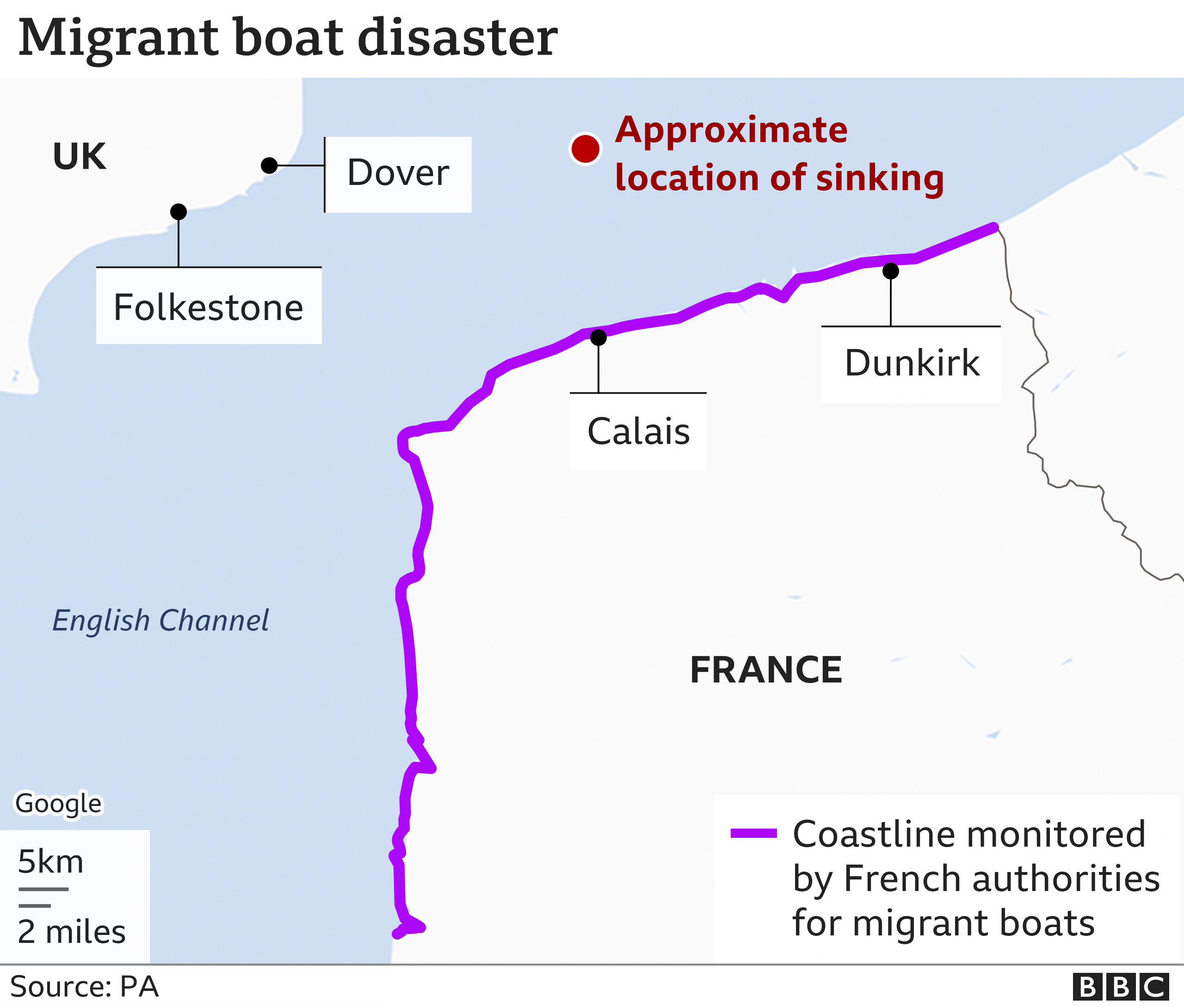 Five alleged traffickers linked to the incident have been arrested in France.
Two people have already appeared in court and an investigation into aggravated manslaughter has been opened by prosecutors, Mr Darmanin said.
Mr Darmanin said the boat used to cross the Channel, called a zodiac, was purchased in Germany.
Boats still arriving
Despite Wednesday's tragedy, people have continued to attempt the dangerous 20 mile (32km) journey across the Channel. On Thursday, two more boats arrived in Dover, carrying about 40 people, the BBC's Simon Jones says.
This is all happening a week after a large migrant camp near Dunkirk in northern France was dismantled and up to 1,500 migrants were evacuated from the site.
More than 25,000 people have made the dangerous journey from France to the UK across the Channel in small boats this year.
That is more than any other year, and more than three times last year's total.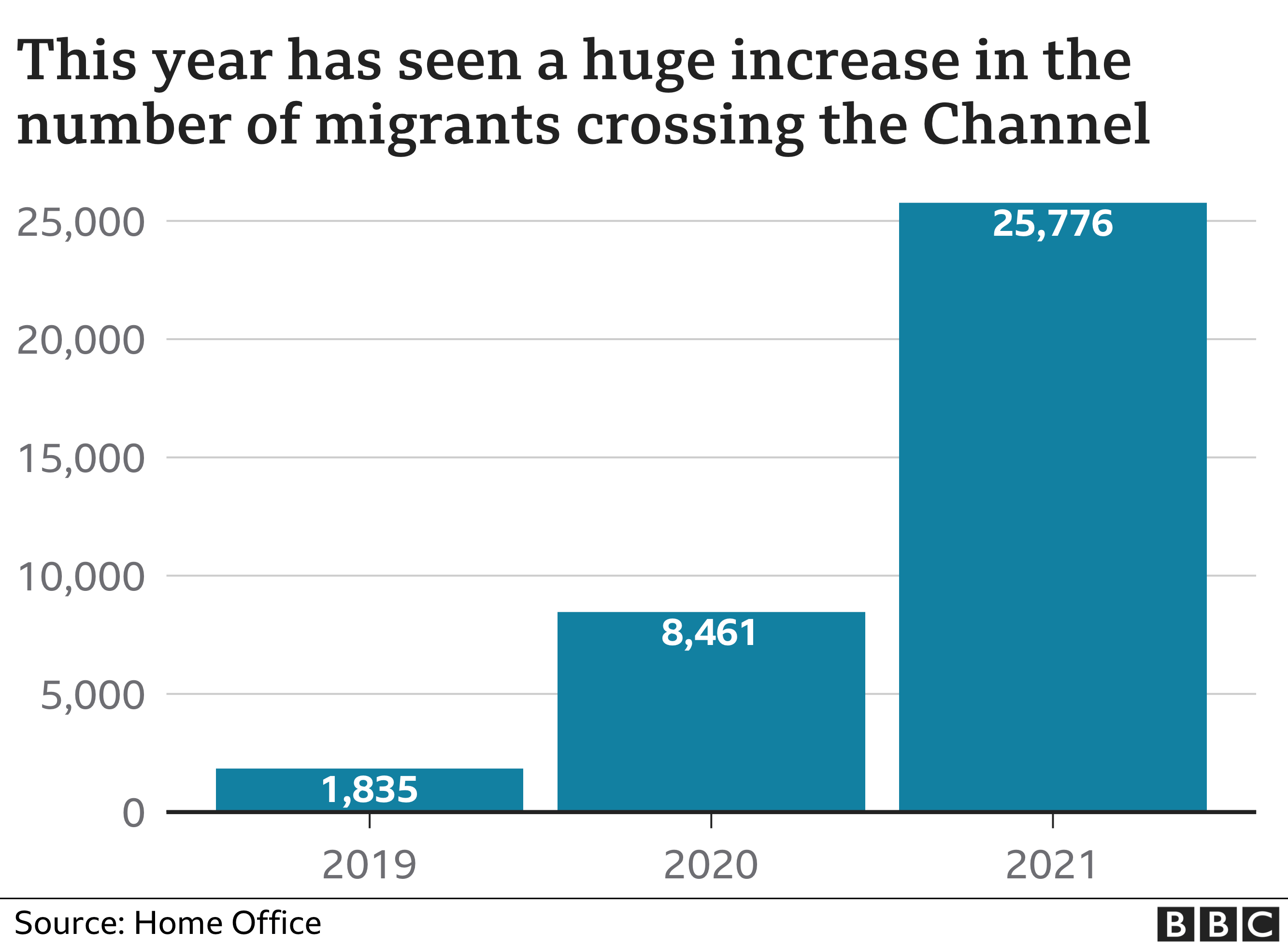 Speaking to BBC News, the president and chairman of the ports of Calais and Boulogne, Jean-Marc Puissesseau, said: "Even if the sea is not looking so rough, in the middle [of the English Channel] there are always many waves. It is dangerous."
Over the past 20 years, organised crime gangs have created an entire industry in smuggling people from Asia and Africa across Europe.
For years, people smugglers have sent people across the Channel hidden in trucks on ferries or trains. But as port security has been tightened, more attempts have been made to send people by boat.
Source: BBC