Canada's overcame rivals the USA 3-2 to claim a fifth women's Olympic ice hockey gold and avenge their shootout defeat in Pyeongchang four years ago.
In this latest chapter of the rivalry between these ice hockey superpowers, Canada led 3-0 in the second period and looked on course for a comfortable win.
The USA hit back with two goals late in the final period to ensure a nervy finish, but Canada held on.
"This is redemption," said captain Marie-Philip Poulin, who scored twice.
"It was one hell of an effort. It's just so good. It's a great feeling."
The final hooter sparked scenes of jubilation among the Canada players, who were outshot 40-21 during the game and were desperately clinging on as the USA poured forward in the final seconds.
This was the seventh women's ice hockey gold medal match – and the sixth time it has been played put between Canada and the USA. The Canadians reclaimed the Olympic title after the agony of that shootout defeat in 2018 ended their run of four successive gold medals.
Finland defeated Switzerland 4-0 on Wednesday to take bronze.
Shiffrin crashes out again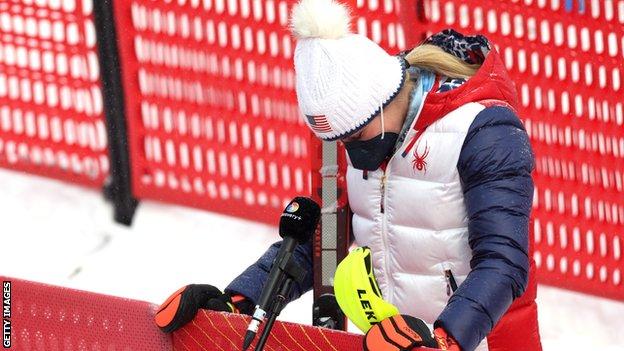 American two-time Olympic champion Mikaela Shiffrin suggested she could be described as "the biggest joke of the Games" after suffering more skiing disappointment.
Shiffrin will leave the Games without an individual medal after crashing out of the alpine skiing combined – the third event in which she has failed to finish.
The 26-year-old had already skied out of both the slalom and giant slalom but was well-fancied to win gold in the combined event after finishing fifth fastest in the morning's downhill leg.
But returning to the Ice River course, where she had skied out in the other two events, the six-time world champion missed a gate and skied off the course yet again.
It means Shiffrin misses the chance to equal Julia Mancuso's American female skiing record of four Olympic medals.
The American told BBC Sport: "I don't know if there's anybody who ever had so many opportunities to get a medal in the Olympic Games and actually failed so many times on it.
I've had a lot of support over the last few weeks. I appreciate it so much. And I've also had a bit of a storm. You know, what went wrong? Caves under the pressure, chokes, all this stuff, and I think there's probably some truth to all of it.
"It feels like there's not a whole lot to learn besides just trying to keep focusing on good skiing. I don't know what the phrase is – take it on the chin.
"I can be the biggest joke of the Games and at least someone's smiling."
She had support, though, from former British Olympic skier Graham Bell, who told BBC TV: "She's brilliant. She's our best skier. And if she's a failure, then what does that make me?"
Combined specialist Michelle Gisin of Switzerland defended her title won in Pyeongchang four years ago, Switzerland's fifth gold in alpine skiing at the Beijing Games.
Gisin's team-mate and two-time former world champion Wendy Holdener claimed silver, while Italy's Federica Brignone took bronze.
Smith demoted as Maier claims bronze
Switzerland's Fanny Smith controversially missed out on a bronze medal in the women's ski cross after judges ruled she had deliberately hampered Germany's Daniela Maier, who crossed the line in fourth.
The skiers were forced to wait for several minutes while the judges reviewed the incident, which saw Smith's leg stick out and block Maier from overtaking.
Maier was eventually promoted to the bronze medal position but appeared to disagree with the decision when it was announced, shaking her head and indicating that Smith, who claimed bronze at Pyeongchang, deserved the place on the podium instead.
Sweden's Sandra Naeslund, who won nine of 10 World Cup races this season, won gold, with Marielle Thompson of Canada taking silver.
Takagi wins speed skating gold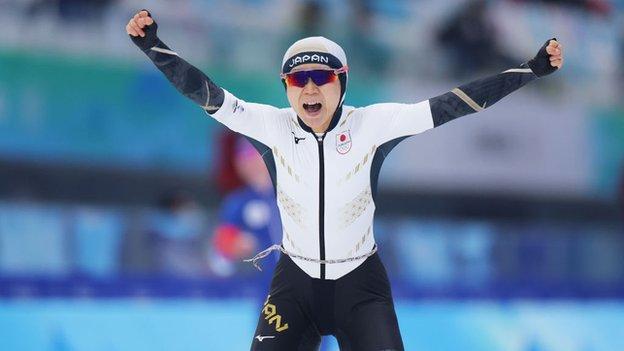 Japan's Miho Takagi finally landed gold to go with the three silvers she has already won in Beijing with victory in the women's 1,000 metres speed skating.
The 27-year-old, who finished second in the 1500m, 500m and team pursuit events, recorded an Olympic record time of 1 minute, 13.19 seconds to earn a spot at the top of the podium.
Takagi was already Japan's most decorated female Olympian, with this latest medal taking her overall tally to seven.
Jutta Leerdam of the Netherlands took silver, while America's Brittany Bowe won bronze, finally claiming an individual Olympic medal at what is her third Games.
Dutch speed skating legend Ireen Wust finished sixth in her final Olympic event before retiring.
Great Britain's Ellia Smeding finished 23rd.
Source: bbc