Belarus police have detained 317 people and deployed water cannon during mass protests against President Alexander Lukashenko.
The opposition says Mr Lukashenko must quit, as his 9 August re-election was widely seen as fraudulent.
As many as 100,000 demonstrators thronged the centre of the capital Minsk – the eighth such Sunday rally. The official estimate was much smaller.
EU sanctions now target 40 Belarus officials, but not Mr Lukashenko.
Many opposition activists have been beaten up by police and thousands have been arrested during months of unrest. They are demanding the release of all political prisoners and a free and fair re-run of the election.
There have also been shows of solidarity with Lena Levchenko, a basketball star serving two weeks in jail for protesting, with opposition supporters parking their cars to spell out her name when viewed from above.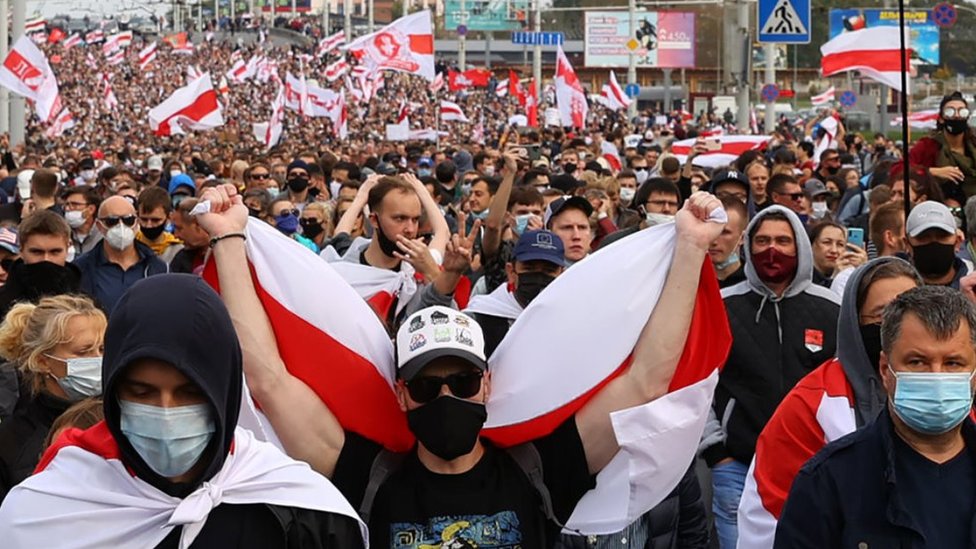 The main opposition leader Svetlana Tikhanovskaya – who stood against Mr Lukashenko in August's election – is due to meet German Chancellor Angela Merkel in Berlin on Tuesday afternoon to discuss the crisis.
Ms Tikhanovskaya was forced to go into exile in Lithuania after receiving threats following the disputed vote. She has repeatedly appealed to the international community to put pressure on Mr Lukashenko so that a democratic transition can be launched by negotiation.
He remains defiant, accusing the opposition of being Western "puppets" intent on overthrowing his government. He is backed by Russian President Vladimir Putin.
source: bbc news