Ukraine is making moves to keep its airspace open after KLM became the first major airline to suspend flights to the capital Kyiv.
It comes as tensions over Russia's military build-up on Ukraine's border intensify despite diplomatic efforts to ease the situation.
Ukraine said it was ready to assume financial obligations for flight safety in the country's airspace.
Other airlines could follow KLM because of the rising insurance costs.
Ukraine's deputy head of the office of the president, Kirill Tymoshenko, said at the weekend that the country was willing to underwrite some of the costs.
He wrote in a Facebook post: "Ukraine is ready to make financial commitments for the safety of aircraft in the Ukrainian sky.
"To ensure flight safety, the government today decided to allocate funds from the State Budget Reserve Fund to the Infrastructure Ministry. Guarantees will be provided for insurance companies, reinsurance companies, leasing companies and airlines."
Reports said the money allocated was about 16.6bn hryvnyas (£404m).
The travel industry is still haunted by the memory of Malaysia Airlines flight MH17, which was shot down while flying near eastern Ukraine's conflict zone in July 2014. All 298 passengers and crew on board the Amsterdam-Kuala Lumpur flight were killed.
On Sunday, Ukraine's budget airline SkyUp said its flight from Portugal to Kyiv was forced to land in Moldova on Sunday after the plane's Irish leasing company revoked permission for it to cross into Ukraine.
SkyUp said European leasing companies were demanding that Ukrainian airlines return their planes to EU airspace within 48 hours.
Ukraine seeks meeting with Russia within 48 hours
A dozen nations tell citizens: leave Ukraine now
The BBC understands that British Airways, which has not operated flights to Ukraine for several years, is not using Ukrainian airspace. It is unclear how long this policy has been in place.
A BA pilot said on Twitter over the weekend that there was a long flight time for a freighter service from London to Bangkok because of "current geo-politics".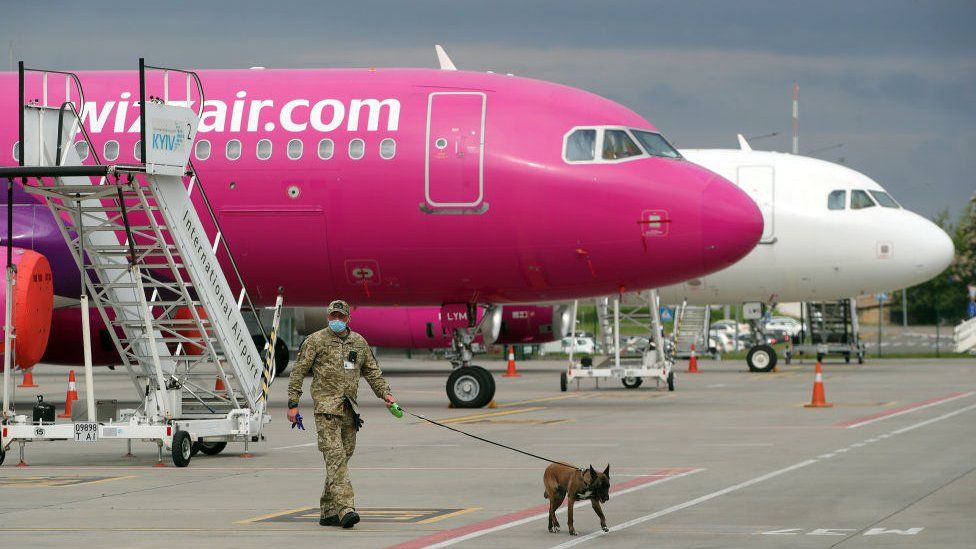 Germany's Lufthansa said it was considering a suspension of flights to Ukraine.
However, Wizz Air said: "Currently, we have not made any changes to our schedule and all of our flights to/from Ukraine continue to operate as normal.
"All passengers with booked flights to and from Ukraine are advised to regularly check their mailboxes for further information about booked flights."
The airline said it was closely monitoring the situation.
Data from the global tracking service FlightRadar24 shows the airspace over northern Turkey, on the other side of the Black Sea from Ukraine, is particularly busy. Airspace in Russia just over its eastern border with Ukraine is also busy. But there are relatively few planes over Ukraine itself, the analysis suggests.
Reuters reported that an adviser to Ukraine's president said that, regardless of what airlines chose to do, Kyiv would not close its airspace as that would resemble "a kind of partial blockade".
Mark Zee, the founder of flight operations advisory firm OPSGROUP, told Reuters: "My guess would be that Ukraine will become unavailable pretty soon if what we've seen over the weekend crystallizes into a couple of more carriers actually pulling the pin.
"I don't think it will be government advice that's doing it so much as it will be insurance-based unavailability or carriers looking at other carriers."
Source: bbc.com